Daniel BO
Pierre GAILLARDON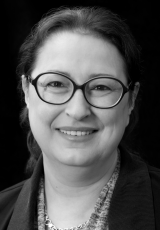 Claude-Emmanuelle COURATIER
Consulting director
ISC Paris
Résumé du parcours
ISC Alumni, with an expertise in quantitative research and Data Management
Study director and marketing director during 8 years, she then co-designed and directed a research program on travelling behaviours and Internet mobility.
Joins QualiQuanti in 2006 as head of quantitative research and to pursue experimenting innovative new methodologies.
(Français)

L'originalité de qualiquanti
Convaincue par le parti pris quali-quanti de privilégier des méthodologies mixtes au service des problématiques des marques et enseignes et ainsi renforcer la robustesse des études quantitatives par la richesse d'approches qualitatives ou sémiologiques.
Tout aussi adepte des "grandes" études fondamentales multi-phases, que de focus pointus pour explorer en profondeur une dimension spécifique.
Passionnée par la segmentation en lien avec les bases de données réelles pour mettre en œuvre des résultats très opérationnels.